A Quick Hike Before the Park!
Before I get to Lake Superior Provincial Park, I wanted to mention a hike just outside the entrance!
After arriving late Thursday night in Sault Ste. Marie, my friends and I were eager to start hiking bright and early Friday morning! After all, we had been trapped in our tiny Toronto condos all summer so what could be more exciting and different from our regular day-to-day! After about a 50-minute drive from our hotel we arrived at Pancake Bay Provincial Park. The Lookout Trail trailhead is located a couple kilometres west of the campground/visitor centre, with access right off the Trans-Canada Highway. This trail is known for its panoramic views of Lake Superior and Pancake Bay and I can confirm that we were not disappointed. The hike itself was pretty easy, but I suggest wearing closed toe shoes because there are a lot of exposed rocks and roots. Once you get to the end of the trail there are about 4 flights of steep stairs which take you to the 2 lookout platforms. We did the trail first in the morning and only came across 1 or 2 other groups of hikers so we had the lookouts all to ourselves! I would highly recommend this trail as a start for your trip because it gives you a great sense of just how big Lake Superior really is.
Trail Details
Name: Pancake Bay Provincial Park, The Lookout Trail
Distance: 7 km return, 1.5-2 hours to the lookout
Option to continue on the trail, which would be 14 km return (5-7 hours)
Terrain: Relatively flat dirt trail with exposed rock and roots
Level: Easy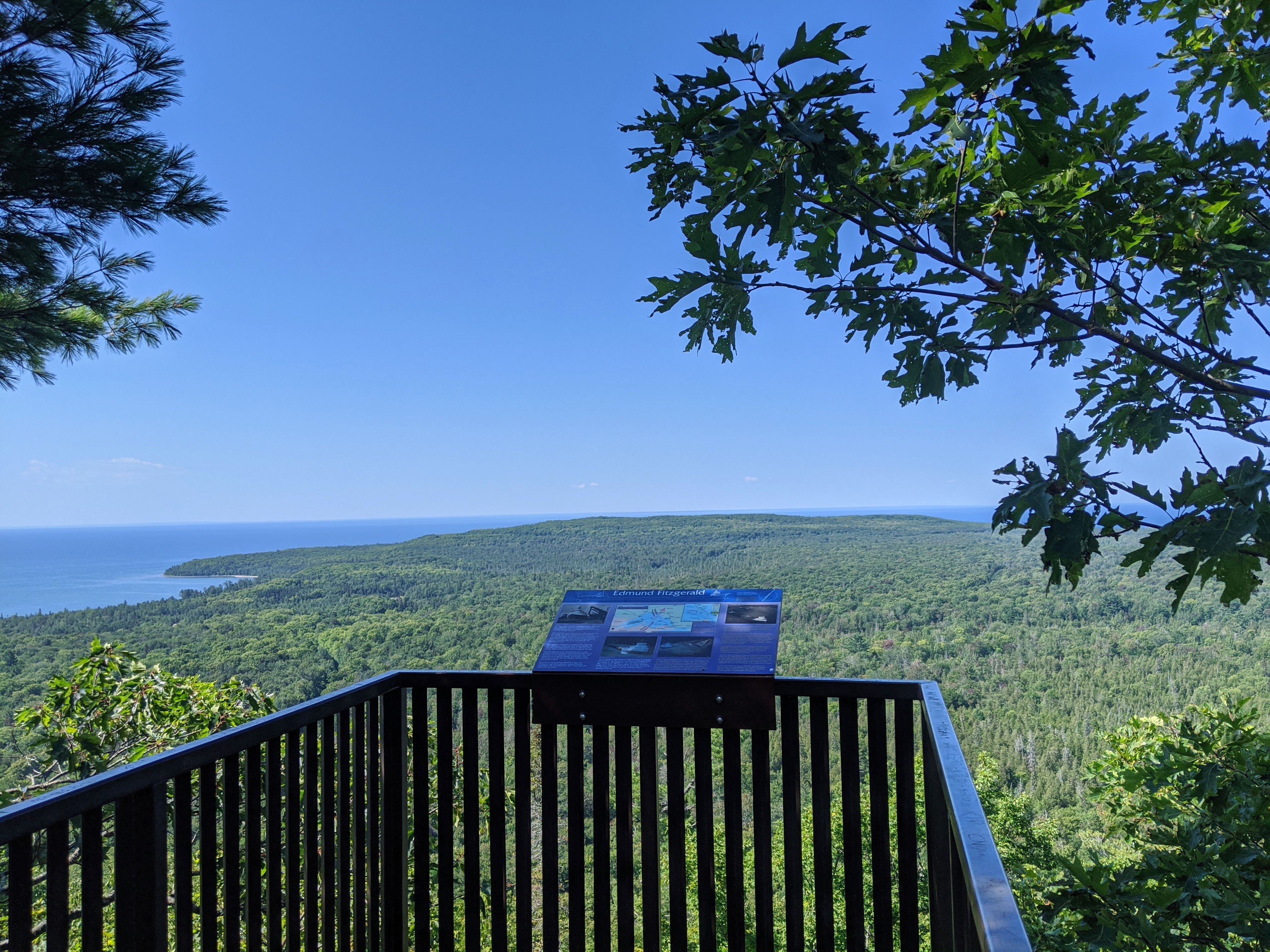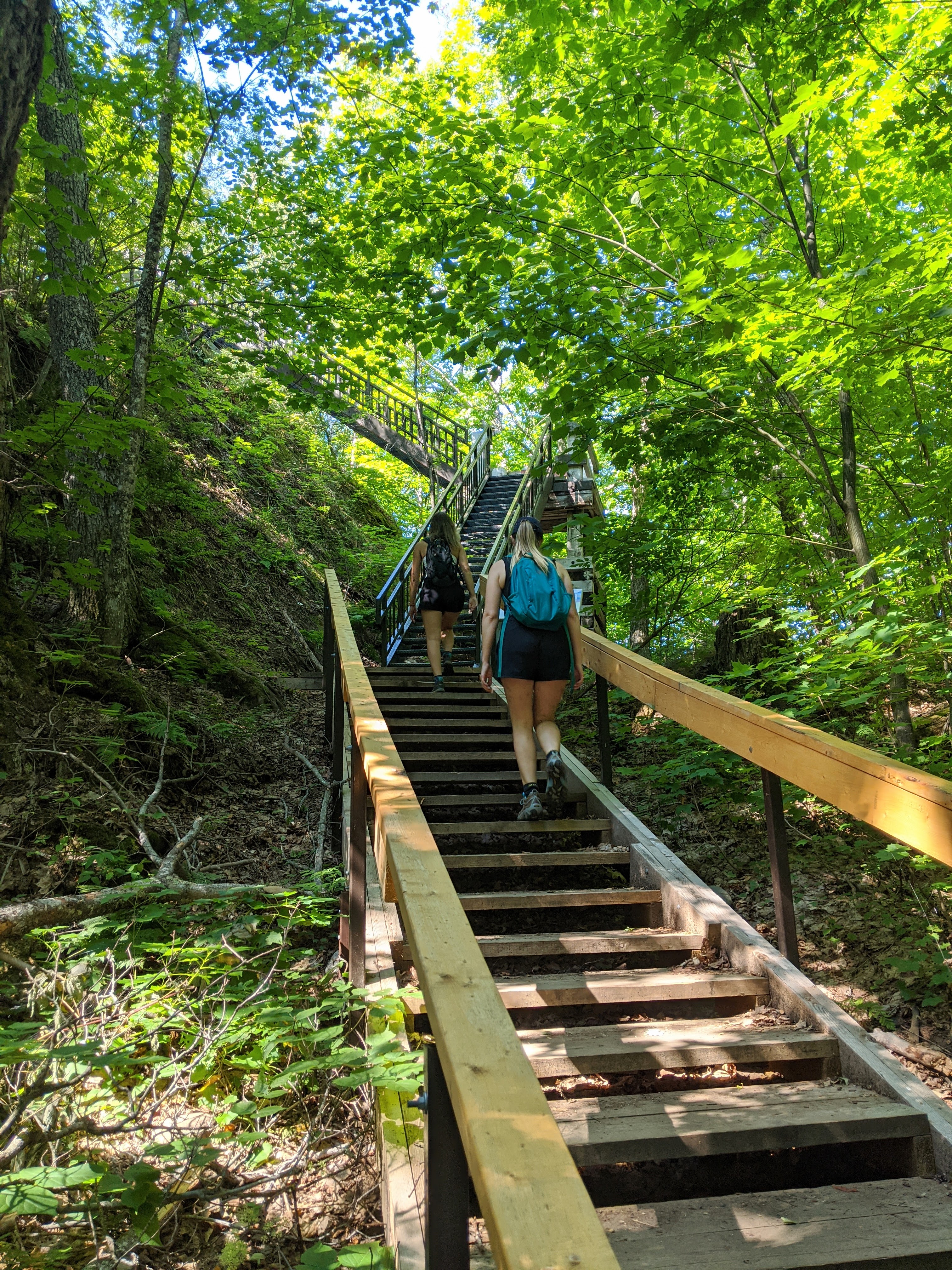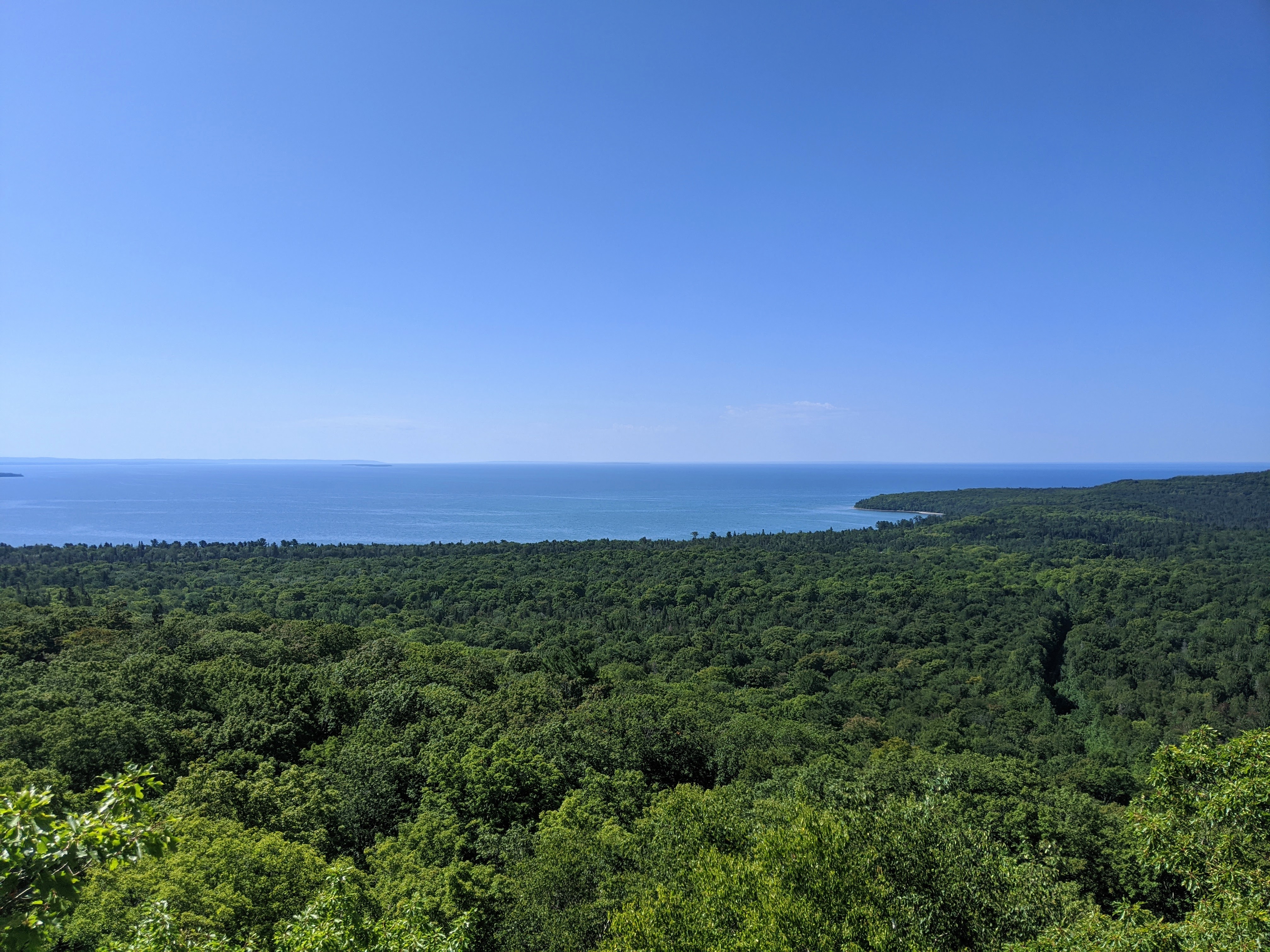 Lunch Time Already? 🤤
We may have only just started our trip but we knew how important a good meal was going to be after a great hike! Although the Agawa Fish & Chips truck doesn't look like anything special on the outside, these were hands down our favourite fish and chips on the trip. Yes, this wasn't our last fish and chips stop. This fish and chip truck is run by Agawa Fishery, a local multi-generational family fishery. Their freshly caught Lake Trout and Whitefish and battered to perfection. Their tartar sauce is also amazing, and this is coming from someone who generally goes with ketchup.
The Agawa Fish & Chip truck is operated seasonally, and doesn't have a physical address noted online - it seems like this is a popular local place, so everyone knows where it is without an address! If you're heading north from Sault Ste. Marie and looking to indulge in mouthwatering fish, be sure to keep your eyes peeled for this chip truck on the right-hand side of the Trans-Canada Highway, across from Kaihla Road - if you've crossed Batchawana River (coming from the south) you've gone too far!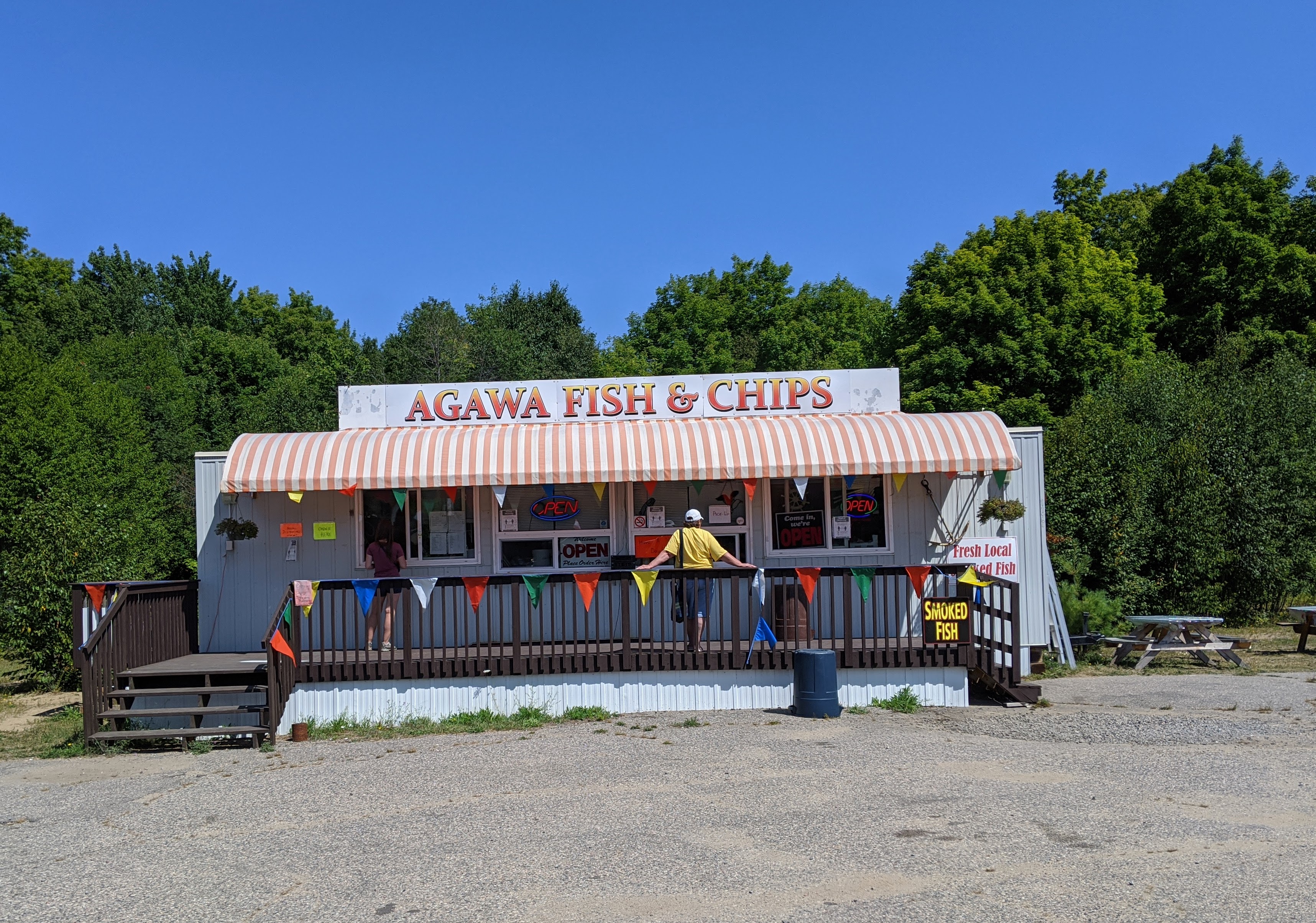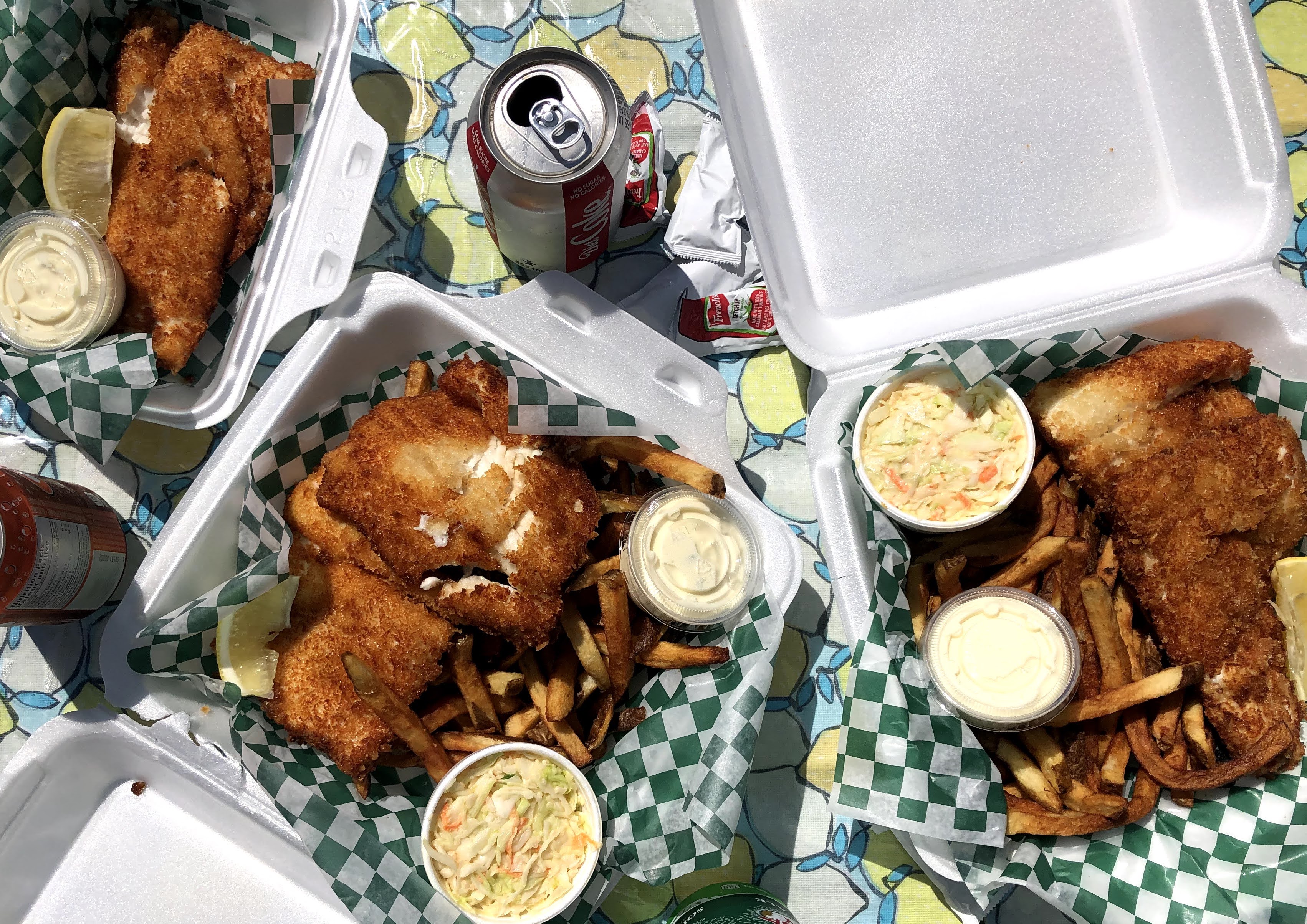 Agawa Rock Pictographs
Now that we had avoided becoming hangry it was time to explore one of Canada's most visited Indigenous archaeological sites. The Ojibwe people's paintings can be viewed by boat or by hike, but we decided on hiking as the large parking lot is right at the trailhead. The pictographs are painted with red ochre, made from powdered haematite rock, which was mixed with fish oil or animal fat. This particular "stone canvas" was likely used by Objiway people for 2,000 years before European fur traders and explorers travelled on Lake Superior. The short hike takes you to a large rock face along the lake which holds paintings that are still visible today, and are believed to be from the 17th or 18th century. There are chains hooked into the rock which allow visitors to climb the rock face without falling into the lake. This is only a 1 way path though so we had to wait at the stairs for 10 minutes while other visitors viewed the paintings. There were numerous warning signs that large waves can pull people into the water, so it is highly recommended to only descend the rock face on a calm day.
Trail Details
Name: Agawa Rock Trail
Distance: 800m return, descending 30m
Terrain: Majority of trail is rugged with exposed rocks
Level: Moderate